I am very excited to announce that I have been chosen to be 'The Life of the Party' over at
More Than Mommies!
This is a huge blog hop that they host every 2 weeks and is a fantastic and super fun way to find some awesome new blogs to follow!
Welcome to everyone who is finding my blog by participating in this hop!
I am so glad that you stopped by! (Bring coffee next time? I won't say no to vodka either...) My name is Tasha and as the title of my blog suggests, I am a New English Mum in America :) I moved to the US 5 years ago to marry my Husband who I had met 3 years previously when I came here to visit my Dad! The whole story of that can be
found right here!
I mainly blog about day to day life, being a Mum, my craft attempts that would NOT put Martha Stewart to shame, England, but not the royals (pah) and all that stuff. I do like to throw in the odd recipe or two (because we all need food, right?) and I also love to review products and host giveaways!
I hope you continue to read what I have to offer and I look forward to visiting you back!
Now to the good stuff!!
Here are the "rules"
(Don't make us post bouncers at the door.)
Follow the Life of The Party -

New English Mum in America

- We will choose our Next LOTHP from those who link up their twitter handle. Use our hashtag #MTMmixer when tweeting so we can keep up with you there! We would still TOTALLY appreciate a shout out on Twitter if you don't mind!

Follow our Mixologists - This week our Mixologist is

Ms. MommyHH6

- Every week we will choose one participant to get our party started at the #4 slot. All you have to do is link up under the first Linky (and follow the "rules") to be considered!

Follow the person directly BEFORE you on the hop!

Finally, we ask that you post one (or both!) of the following buttons in either a post or on your sidebar to let other people know where you are partying today!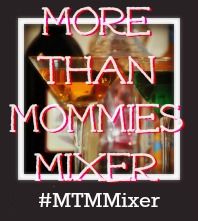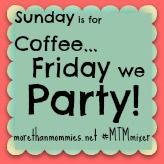 The
fastest
way to see success for your blog in a blog hop is to head on over to other blogs,
comment
,
follow
and ask them to swing by and party at your place!
Have fun!!! Thanks again for stopping by!
Enter your blog address here - Blogs can be followed via GFC, Bloglovin', Email Subscription or RSS Feed
Enter your Facebook Page address here -
Enter your Twitter Handles here -
Enter your Pinterest Board address here -
Enter your G+ Profiles here -